OFFICIAL EVENT TITLE
MALCON 2018: The 1st Malolos Toys and Hobbies Convention
Unprecedented and the newest event in our town, Malolos City. This event was inspired by various conventions in our country. This was a vision and a brainchild of our Malolos City Mayor Atty. Christian D. Natividad to gather our Malolos-based and Bulacan-based toy enthusiasts and hobbysists, making it the very first attempt to mount a big project like this.
This will feature various events like toy displays and exhibits, cosplay contest, Tamiya contest, RC contest, merchant booths and other exciting activities.
VISION
To establish a yearly convention of toy enthusiasts and hobbyists coming from all over the country especially Central Luzon and Metro Manila
To harmoniously showcase their toys, model kits, action figures, diecast collections, remote control racing cars, M4WD, cosplayers, anime bands, and other related enthusiasts and hobbyists for the benefit of the public as the event's primary audience
To start this event in Malolos, the heart and capital of Bulacan as well as invite other nearby towns, cities, and provinces most especially NCR to participate
To make the City of Malolos as the pioneering and leading toys and hobbies organizer for the first-ever toy convention in Bulacan
MISSION
Establish a platform to showcase the toy enthusiasts' interest and encourage the youth to participate in recreational activities such as this to enhance their talents and imagination, creating a support group in the community as well as to keep them away from vices, drugs and other harsh elements in the society.
Create a revenue for the participating groups to continue their upcoming events for the year 2018-2019.
Boost economies and profits for the merchants of Malolos City and nearby municipalities and cities by inviting them to participate in our event and set-up their businesses in the form of kiosks and booths provided for them.
Helping other communities in the hobby to create networks that would help them in the future of pursuing the hobby.
ABOUT
Official Facebook: https://www.facebook.com/MalConPH
Official Twitter: https://twitter.com/MalConPH (@MalConPH)
Official Instagram: https://instagram.com/MalConPH (@MalConPH)
Official Website: www.malcon.ph
Official Email: malolostoyconvention@gmail.com ; inquire@malcon.ph
Official Hashtags: #MALCON #MALCON2018 #MALCONPH
Official Date and Time: May 26, 2018 – May 27, 2018 (9:00am to 9:00pm)
Official Place: Malolos Sports and Convention Center (MSCC)
VENUE
The official venue of the MalCon 2018 is the Malolos Sports and Convention Center (MSCC), an eight-year-old structure managed by the City Government of Malolos. It has a seating capacity of 5,000. The infrastructure became the venue of local and national events notably the Pinoy Big Brother - Teen Edition Big Night (2012), Rakpublika (2018), Republika Run (2018), among others.
How to claim your FREE MalCon Tickets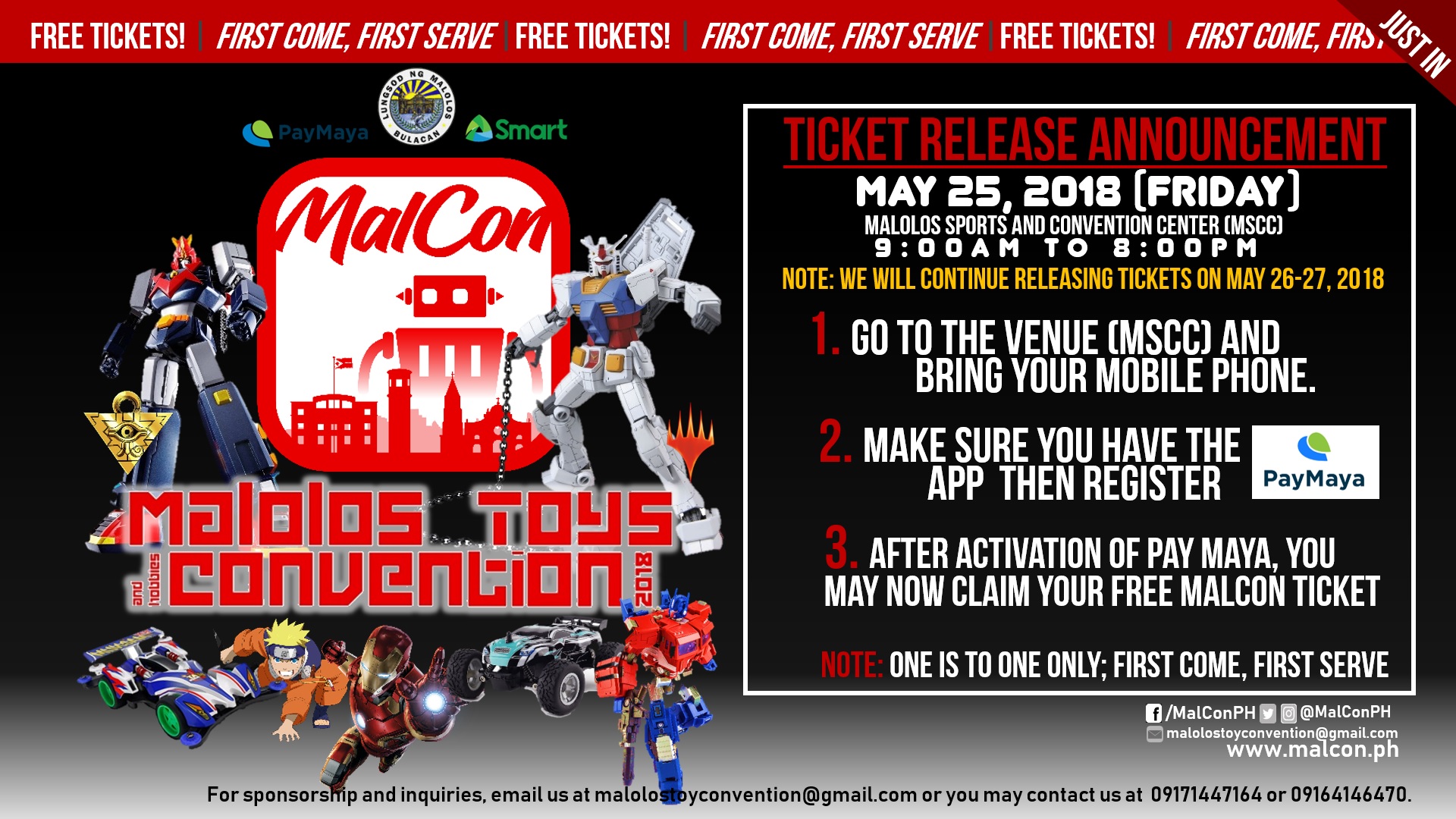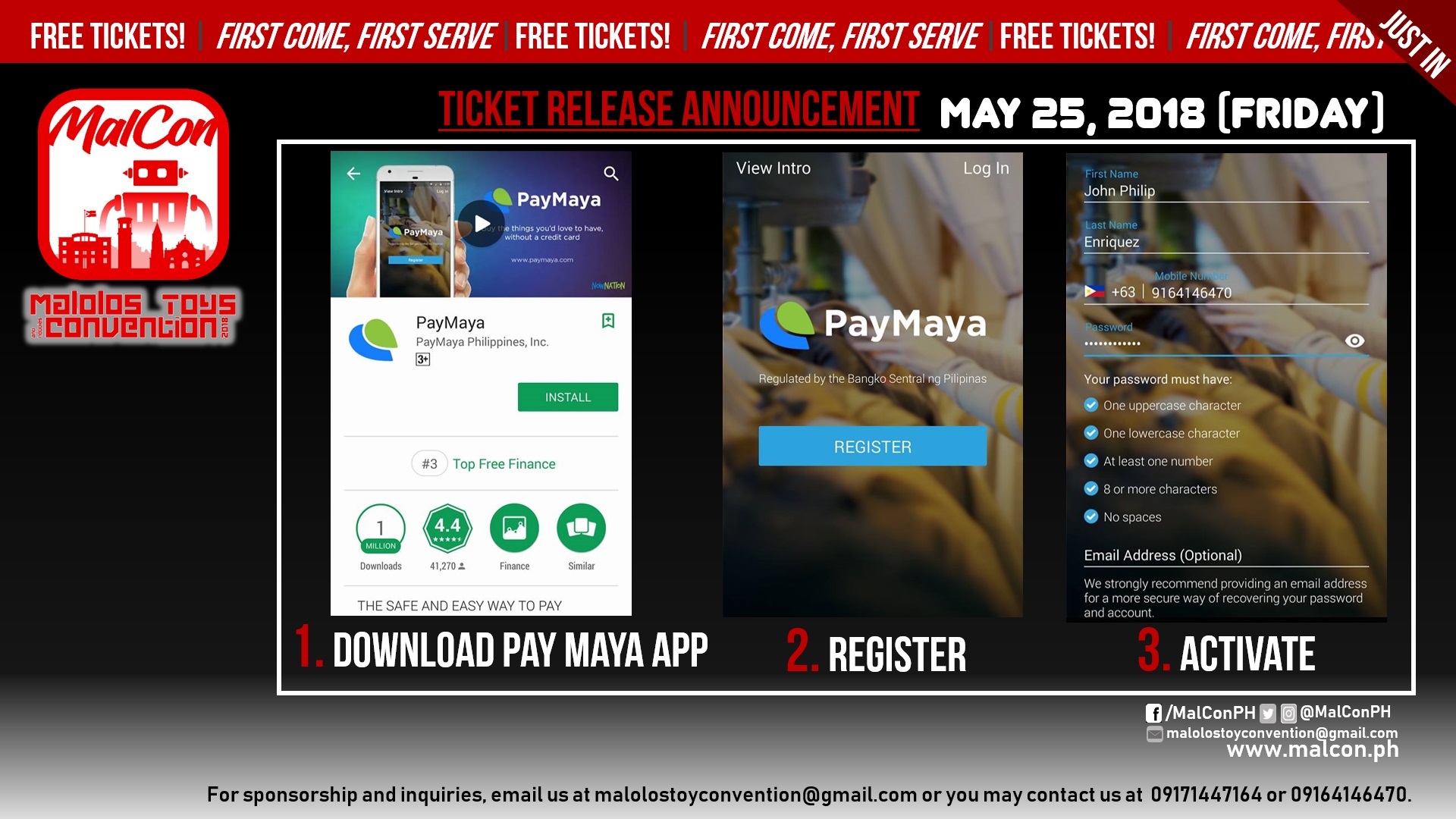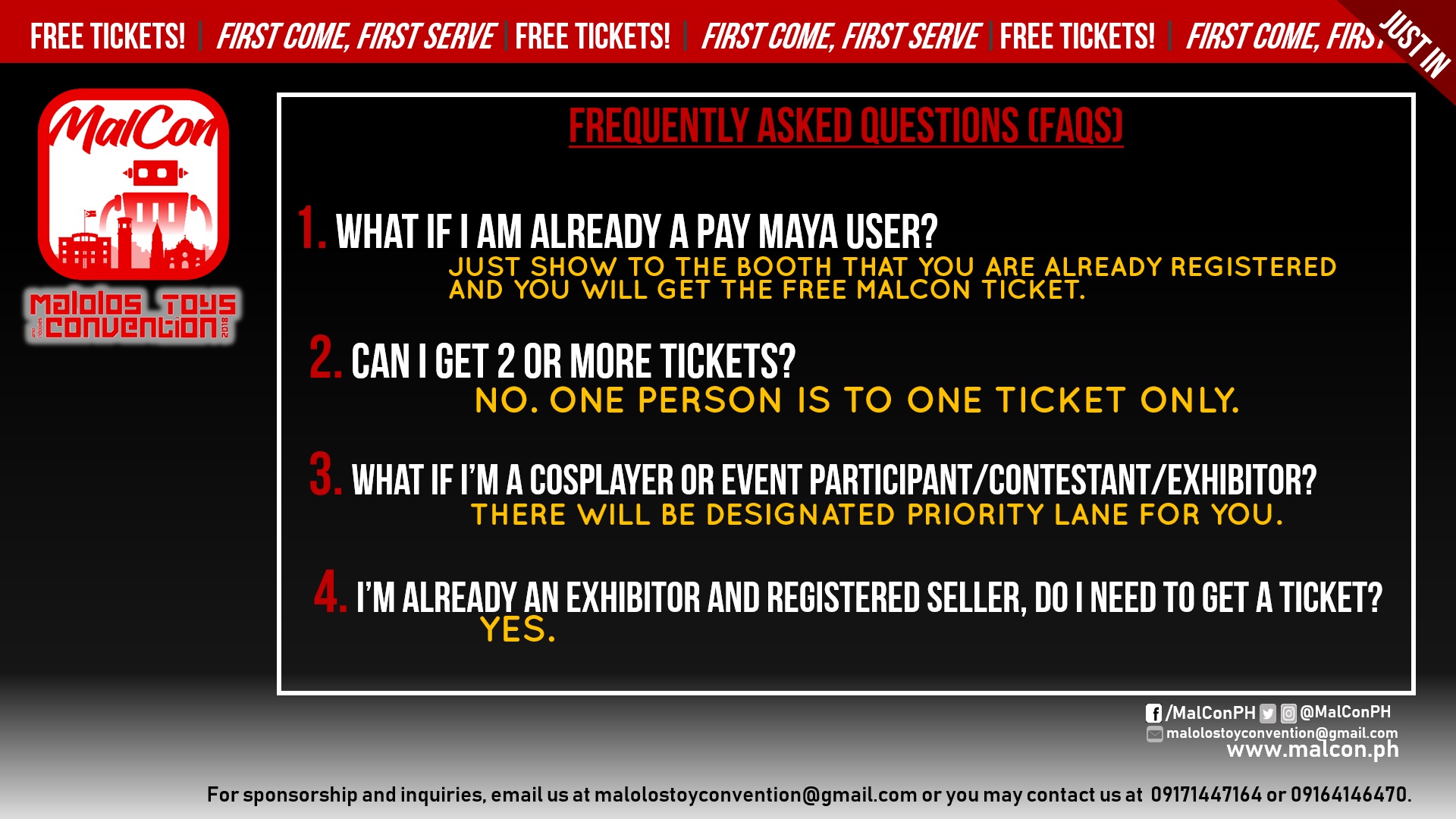 Like our Facebook Page to get up to date with MalCon!